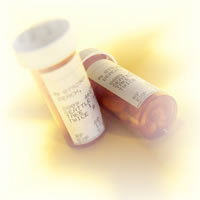 You have to talk with your doctor and have a physical exam before you get any new medicine for the first time. Use only medicine that has been prescribed by your doctor or another trusted professional.
Although medicines can make you feel better and help you get well, it's important to know that all medicines, both prescription and over-the-counter, have risks as well as benefits.
For example, every time you get into a car, there are risks---the possibility that unwanted or unexpected things could happen. You could have an accident, causing costly damage to your car, or injury to yourself or a loved one. But there are also benefits to riding in a car: you can travel farther and faster than walking, bring home more groceries from the store, and travel in cold or wet weather in greater comfort.
Ask your doctor always if there are interactions with any other medicines or dietary supplements (including vitamins or herbal supplements), beverages, or foods. Use the same pharmacy for all of your medicine needs, whenever possible.
Ask your doctor if there is anything you can do to minimize side effects, such as eating before you take a medicine to reduce stomach upset.
You always have to pay attention to how you are feeling; note any changes. Write down the changes so that you can remember to tell your doctor, pharmacist, or other health care professional.